Pediatric Anesthesia Fellowship in East Africa: An International Partnership with SPA, APAGBI, AAGBI, WFSA, and the University of Nairobi (Kenya)
By Faye M. Evans, MD
Chair, SPA Committee on International Education and Service
Department of Anesthesiology, Perioperative and Pain Medicine,
Boston Children's Hospital
Boston, MA
And
Mark Newton, MD
Department of Anesthesiology, Vanderbilt University (USA)
Kijabe Hospital (Kenya, East Africa)
In East Africa, having a simple operation can be a very dangerous predicament.  Pediatric anesthesia mortality is poorly documented but reports indicate anesthesia mortality is as high as 1 death per 144 cases.1,2 This is in stark contrast to the anesthesia mortality in the US which is 1 death per 100,000.3 Quality pediatric care including the ability for safe pediatric surgery and anesthesia is critical as 50% of the population in East Africa is under the age of 14 (75 million people).4 As in other parts of the world, these children require both basic and complicated surgical procedures yet they often do not often have the benefit of being attended to by a physician anesthesiologist, let alone a pediatric anesthesiologist.  Not surprisingly, anesthesia fellowship training in East and Central Africa does not exist.
Through the collaborative efforts between the University of Nairobi School of Medicine, Department of Anesthesiology, the World Federation Societies of Anesthesiologists (WFSA), the Society for Pediatric Anesthesia (SPA), the Association of Paediatric Anaesthetists of Great Britain and Ireland (APAGBI), and the Association of Anaesthetists of Great Britain and Ireland (AAGBI), the University of Nairobi Pediatric Anesthesiology Fellowship began this past September.  The process has been several years in the making and is the first University fellowship-level training program in East and Central Africa and is expected to serve as a model for other disciplines.  It is our hope that this fellowship will help fill the training gap in pediatric anesthesia and improve anesthetic care of the pediatric surgical patient in East and Central Africa.
The inaugural class has two fellows from Kenya and one from Uganda.  Dr. Susane Nabulindo from Kenya has been selected as the first Society of Pediatric Anesthesia Fellow.  She is a member of the University of Nairobi, Department of Anaesthesia and is on official study leave to participate in the fellowship. Once she completes the fellowship, she will return to her faculty position in Nairobi and expand the impact of this fellowship training through her education of future residents and fellows learning pediatric anesthesia.   Per Dr. Mark Newton and Dr. Mark Gacii, the Program Director, she is an excellent fellow who will be able to grow pediatric anesthesia as a subspecialty in East Africa for many years.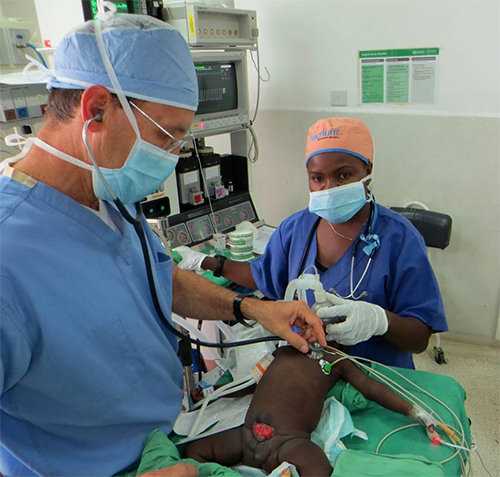 Dr. Mark Newton and Dr. Susane Nabulindo (SPA Pediatric Anesthesia Fellow)
work together to take care of a pediatric patient in Kijabe Hosptial, Kenya
This fellowship is unique among WFSA supported fellowships as it is the only fellowship with University accreditation. The academic foundation of this program will allow graduates to become fully recognized as experts in Pediatric Anesthesia within their home countries so that the ripple effect will quickly impact an entire region of Africa. The substantial visionary leadership in Kenya by those interested in the improvement of the anesthesia care of East Africa's children prompted a transitional template for this program.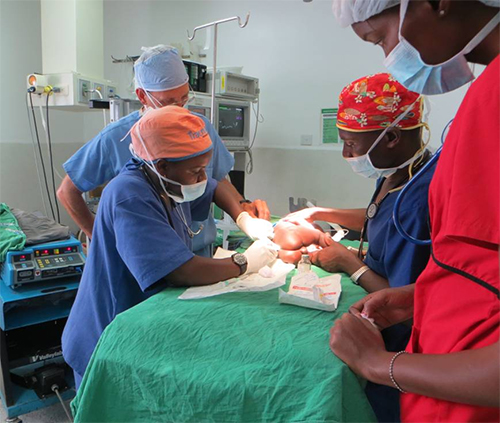 Dr. Mark Newton instructs students in regional techniques
Although educators in Kenya will provide the vast majority of the clinical and didactic training, external lecturers have been requested during this time of transition towards the goal of a self-sustaining program. This first year of the fellowship, the partner organizations will provide four visiting lecturers in areas requested by the University of Nairobi Fellowship Director. The visiting lecturers will not only provide lectures but assist in the clinical mentoring within the operating theatres of Kenyatta National Hospital, the large teaching referral hospital.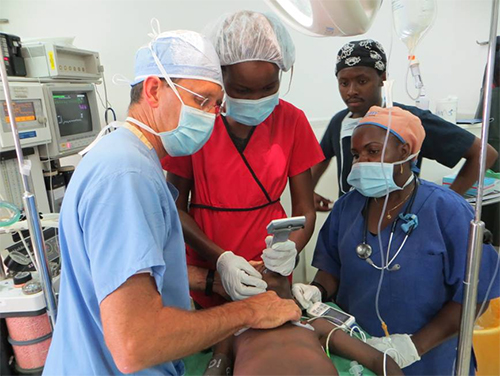 Dr. Mark Newton and Dr. Susane Nabulindo work together to train
a Kenyan and South Sudanese non-physician
The fellows will also rotate through three additional hospitals that include: Kijabe Hospital, Gertrudes Children's Hospital and Mater Hospital. The program is thankful to Dr. Charles Coté for his donation of "A Practice of Anesthesia for Infants and Children" to each fellow and educator in Kenya. In addition, the fellows are using pediatric stethoscopes donated by Vanderbilt University, Department of Anesthesiology.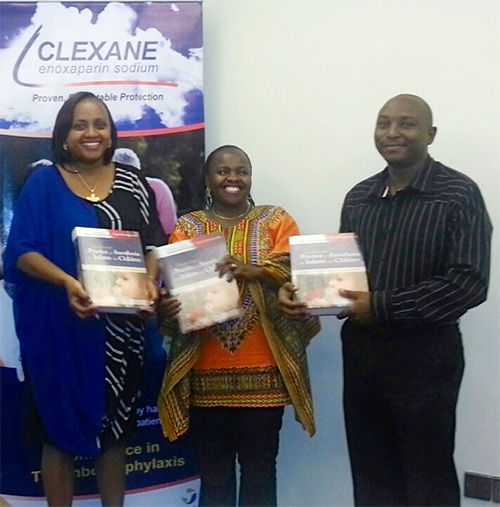 Inaugural University of Nairobi Pediatric Anesthesia fellows receive their pediatric anesthesia textbooks; a gracious gift by Dr. Charlie Coté and Elsevier
The population base in Africa has the steepest growth curve of any region of the world. As this population grows, the number of children needing surgery every day will grow exponentially and based upon current estimates, thousands of African children will die due to unsafe anesthesia in the vast majority of African countries. This program will directly address this tragic reality by training East African anesthesiologists in the specialty of pediatric anesthesia within a program rooted in a country's national system. The program will also train residents alongside the fellows so that all levels of physician anesthesia education will benefit from this emphasis on the surgical pediatric patient. The goal of training trainers as leaders in pediatric anesthesia will allow surrounding countries to benefit from this training. In five years, our goal is to have pediatric anesthesia educators in many of the East and Central African countries.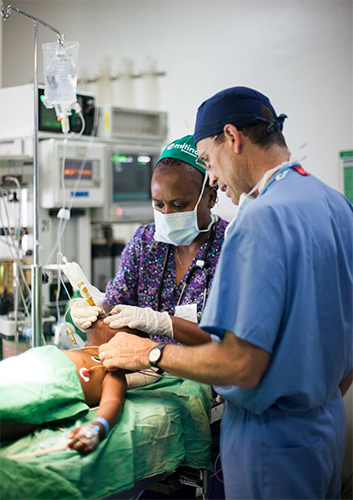 Dr. Mark Newton assists University of Nairobi Pediatric Anesthesia Fellow,
Dr. Emma Mutio, place an LMA
We are excited that this international collaboration will allow the SPA membership to be directly involved in a medical education solution which will impact the lives of children in Africa for decades. Also important, this collaboration allows SPA to partner with our pediatric anesthesia colleagues within APA as we address the challenge of anesthesia pediatric mortality in Africa together with one voice. Our hope is that the many children who are living in the urban cities and rural villages of Africa will soon have safer anesthesia care due to the impact of the fellowship's graduates and their future trainees who will then spread their skills and knowledge throughout this region of the world.
References
Walker IA, Obua AD, Mouton F, Ttendo S, Wilson IH. Paediatric surgery and anaesthesia in south-western Uganda: a cross-sectional survey. Bull World Health Organ. 2010;88(12):897–906. doi:10.2471/BLT.10.076703.
McQueen KAK. Anesthesia and the global burden of surgical disease. Int Anesthesiol Clin. 2010;48(2):91–107. doi:10.1097/AIA.0b013e3181d36d09.
Li G, Warner M, Lang BH, Huang L, Sun LS. Epidemiology of anesthesia-related mortality in the United States, 1999-2005. Anesthesiology. 2009;110(4):759–765.
Group WB. World Development Indicators 2013. 2013.